Why VIP?

Premium One-Stop Plastic Surgery Journey
VIP clinic aims to provide the premium one-stop plastic surgery journey to our clients. Since 2001, we have built personal and genuine relationships with our VIP patients from all over the globe. Our clients are not seen as the patients who temporarily come in for the surgeries but we see and treat them as our friends; we provide the best and most exclusive experience during their stay. Our clientele is active in endlessly sharing their experiences and referring their friends to us. The client tree, which is naturally built over the time, is continually grown but privately done – keeping the privacy and information safe. The VIP Plastic Surgery Center is a private and spacious clinic to provide a comfortable but professional atmosphere for our clients. As part of our premium one-stop-journey, our surgical cost includes a comprehensive package that is provided during your journey with us – consultation, body examinations, nursing care, hospitalization, accommodations, doctor's post-care, skin care aesthetics, and pick-up service. Our services revolve around our clients and we meticulously focus on the client needs. Our staff is deeply involved in each of our patient's care and prioritizes understanding their every need. Our attention to detail enables us to avoid running like a "factory clinic."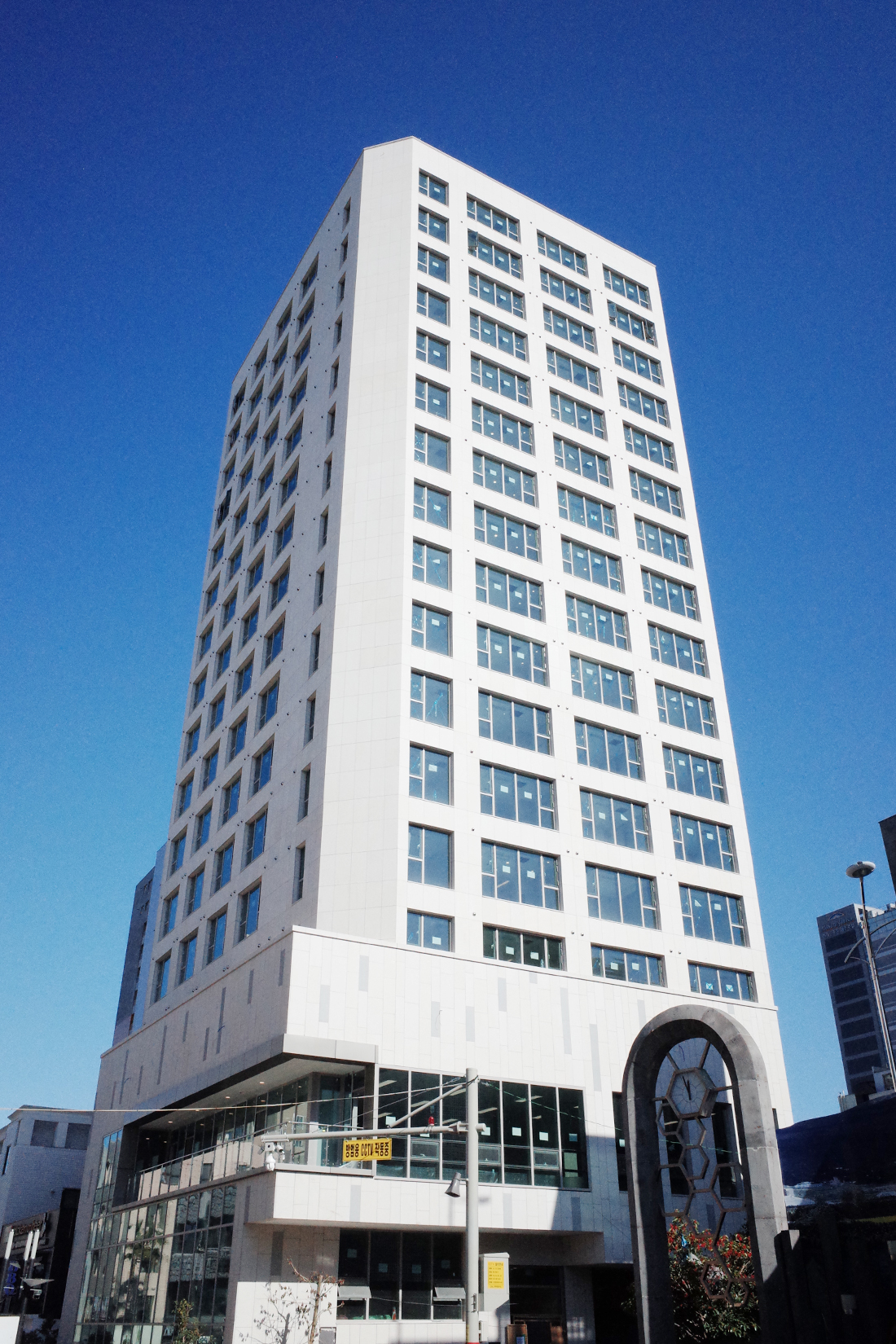 What We Aim
As a complete plastic surgery and aesthetic center, VIP International Plastic Surgery Center promises to yield the finest quality of surgical result and an exceptional customer service. We view our position as healthcare staff as having a strong sense of responsibility for every patient who undergoes a treatment or a surgery. Armed with endless academic activities and rigorously trained surgery techniques, our healthcare providers aim to perform a safe, natural, and satisfactory result for our patients. At VIP clinic, all our staff is devoted to our patient's needs and provide patient oriented care - which fundamentally is based on establishing a genuine and trustworthy relationship with the patient. We aim to provide consistent care and focus – and continuous pursuit of ours.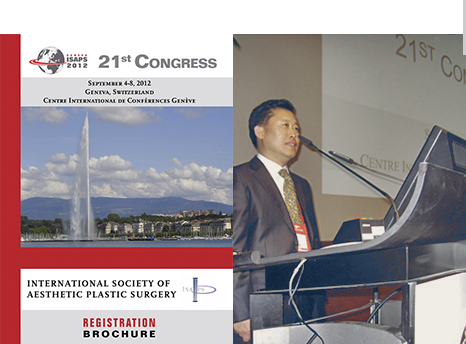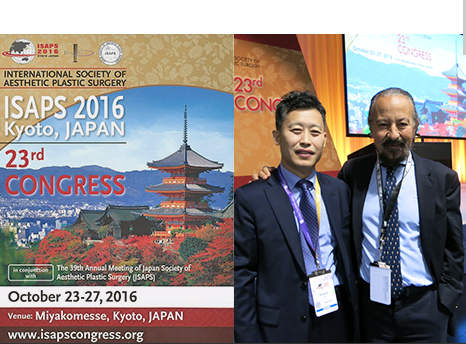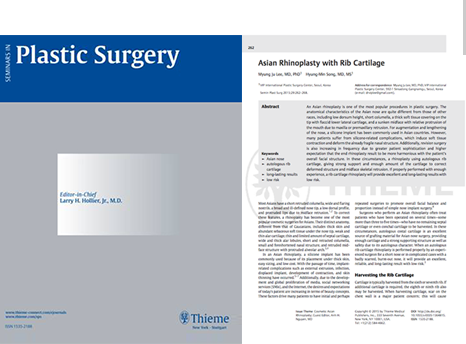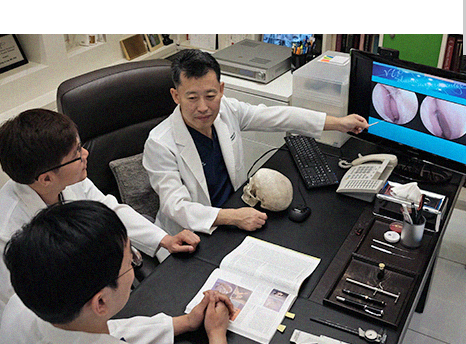 ISAPS 2012 Geneva, SwitzerlandDr. Myung Ju Lee has presented his signature surgery 'Harmony Rhinoplasty' at the ISAPS World Conference in Switzerland. The presentation 'Asian Rhinoplasty for Harmonious Face' introduces a harmony rhinoplasty theory that explains the ratio of face structures (forehead, nose, and chin) and his method used to improve a protruded mouth and sunken mid-face by a rhinoplasty. This harmony rhinoplasty theory was selected as one of the BEST 5 theories at ISAPS.
ISAPS 2016 Kyoto, JapanAt the ISAPS International Conference, Dr. Lee has presented a state-of-the-art Asian rhinoplasty that focuses on the maxilla and premaxilla area by using a rib cartilage as the main material. With the combination of his artistic mind, gifted surgery skills, and his rigorous academic activities, our chief doctor, Dr. Lee, is recognized as one of the leading plastic surgeons worldwide.
Seminars in Plastic Surgery 2015VIP doctors presented the rhinoplasty theory "Asian Rhinoplasty with Rib Cartilage" in the international plastic surgery journal - Myung Ju Lee MD
PRS Korea 2007 With his collection of studies on the subject of functional and aesthetic rhinoplasty, Dr. Lee has ultimately introduced a revolutionary rhinoplasty called 'Septal Deviation Rhinoplasty'. This rhinoplasty method combines the traditional ENT nose surgery, which fixes the septal deviation, and the aesthetic rhinoplasty to refine the nose shape with a single surgery.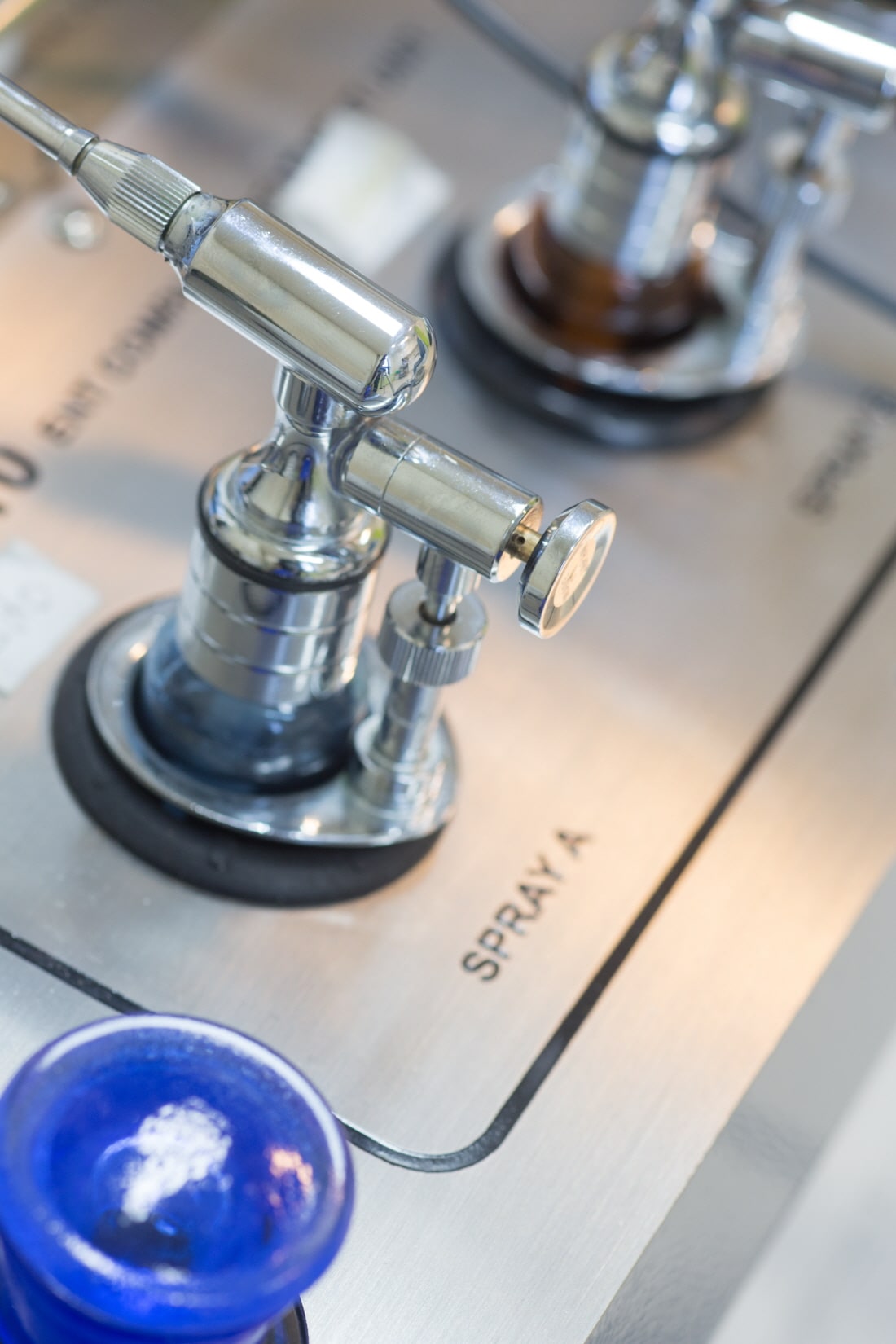 Zero Malpractice
At VIP clinic, our healthcare staff considers every plastic surgery very seriously regardless of the complexity of the surgery itself. Safety is the utmost important factor in all surgeries and it is our responsibility to guide and advise our patients in maintaining their health in throughout the step of their journey with us. Although many people tend to mainly focus on the safety prior to the surgery, the truth is that the safety and the recovery after the surgeries are most critical. The complete safety system at the VIP includes an air shower system and a university hospital anesthesia system. Furthermore, our board-certified anesthesiologist will guide you throughout the process; beginning with pre-surgical care and until you are fully recovered after the surgery. We are proud to say that we have been keeping our promises to our patients and their family regarding the safety – we proudly main a 'Zero Accident' record since the first day of the clinic opening.
We understand you may have concerns about being a suitable candidate for surgery. Prior to the surgeries, a thorough body examination will be conducted by our providers. Your full medical history and current health condition will be informed to our doctors – guiding and preparing your pre-operation to-do list. Because your safety is uncompromisable, we only perform the surgeries for the appropriate candidates who are under good health.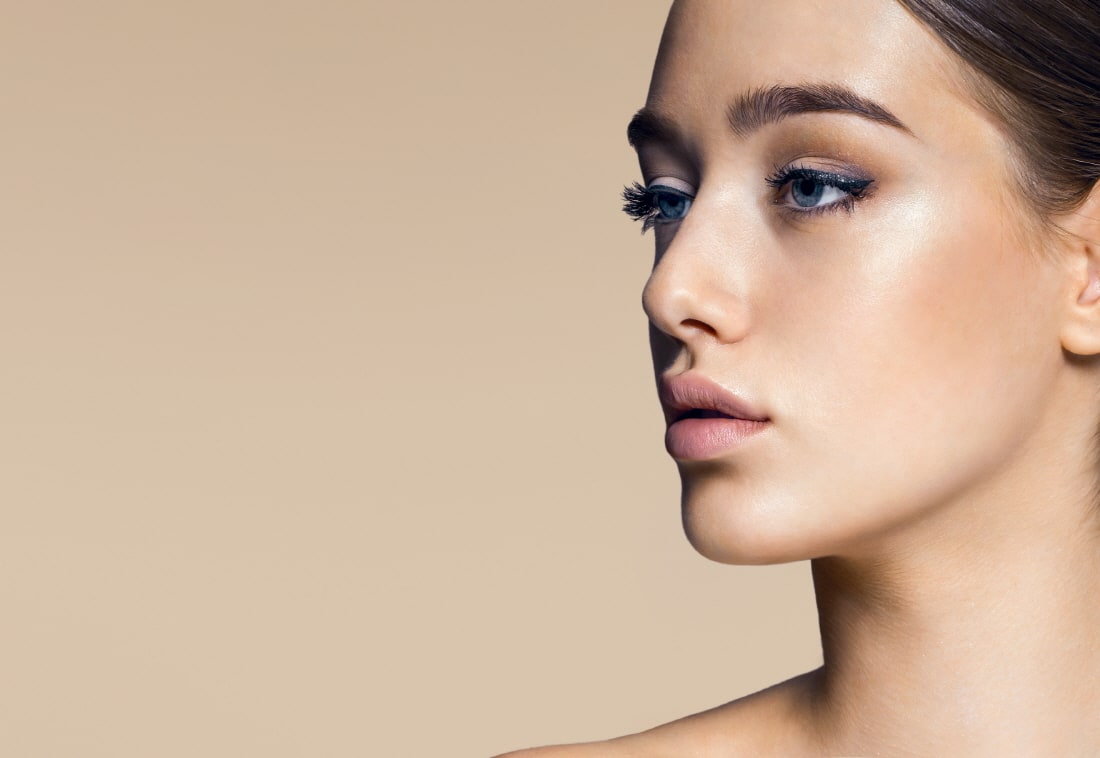 Naturality in Autologous Tissue Surgery
With the extensive experiences and skills of our specialized surgeons, we believe that plastic surgery can help our patients achieve a natural beauty. One of our main goals is to create a 'non-plastic plastic surgery' result. Our surgery results are exceptionally natural looking that it is nearly impossible to notice if our clients have undergone cosmetic surgeries.
As a leading autologous tissue center in Korea, our VIP doctors are known to utilize the most natural materials that are freshly harvested from the client's body to maximize the naturality of the result. These natural materials have the highest adaptation in the body and the lowest infection rate. VIP Senior doctors, who are university professors, are continuously promoting the use of autologous tissues as the main material in plastic surgery. At the VIP, we provide a 1:1 customized and personal surgical plan based on the client's needs, creating a unique and natural result.
All-Inclusive Pre- and Post-Care
Our secret to maintaining our reputation as a top-notch international plastic surgery clinic is based on these principles: We understand that our international patients may feel inconvenienced in planning the medical tour abroad. With VIP's fluently multilingual speaking staff, VIP provides an all-inclusive premium care for both pre- and post-care. For our patients who are coming from other countries, airport pick-up and drop-off service will be provided. For patients who are planning to have multiple or major surgeries, VIP accommodation will be provided during their recovery phase in Korea. For all the patients who undergo surgeries at VIP clinic, doctor's check-up, dressing, and skin aesthetic service will be fully supported every day. Our VIP staffs will be on-call 24/7 in the case of an urgent situation. We make sure our clients are not inconvenienced while staying in Korea. With these luxurious and professional services, our clients are confident to choose us and satisfied with our services.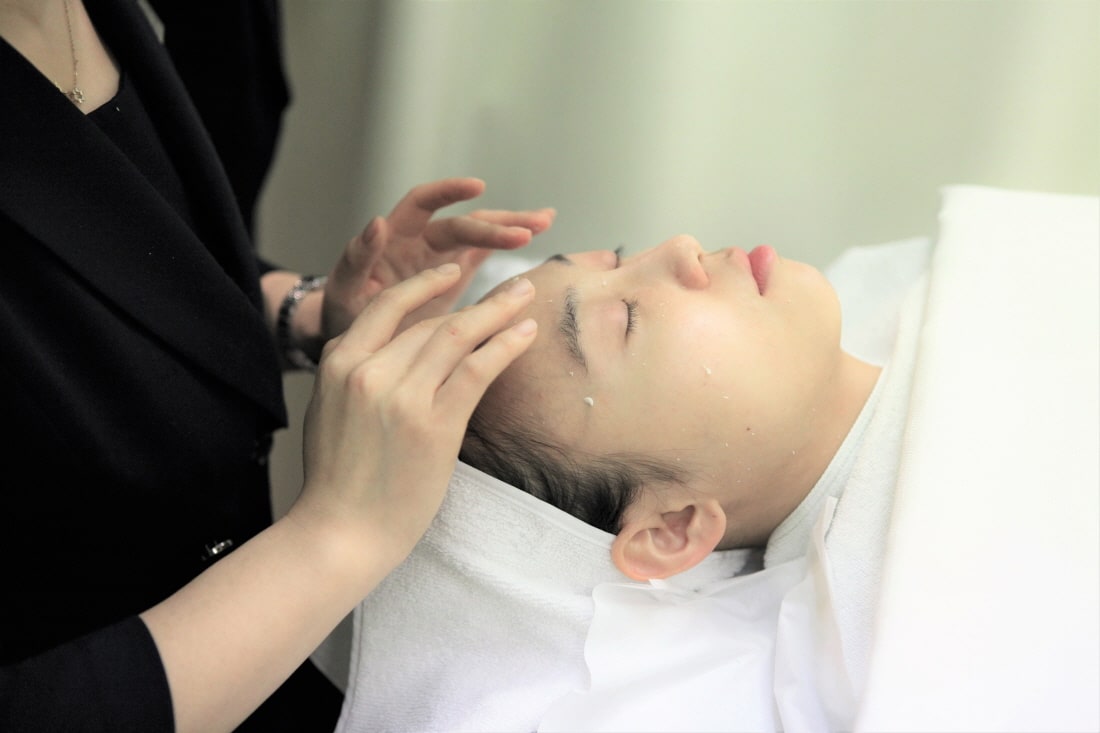 Korean Skin Treatment
At VIP clinic, you will experience all ranges of the aesthetic treatments. This begins with a relaxing Korean skin treatment and other non-surgical procedures. If you are looking for an overall improvement, plastic surgery is the key solution for you. With our doctors who specialize in different areas, you will receive a comprehensive beauty consultation.
Non-Surgical Procedures
The VIP's Non-Surgical Procedures are for people who are not ready for plastic surgery yet. From the start, our clinic is unique in its professional manner, providing consultation that ranges from the non-surgical to surgical. We can help you improve your appearance with non-invasive procedures. Every step is meticulously observed by your expert doctor. Unlike an ordinary skin care service, VIP Aesthetic consists of a series of professional medical treatments that are suitable for various skin types or body shapes. All the medical equipment including Botox, filler, and lasers are utilized by the board-certified plastic surgeons. If you are looking for a unique treatment, our signature 'all-natural Dr. Solution' (composed of Korean fermented food) is the utmost special experience provided by the VIP.
Contact Us
For free online consultation or to schedule an appointment, please fill out the patient form* first and send us an email with your photos (face and body.)
If you prefer Whatsapp consultation, please contact +82-10-5059-6626.