Dr. Lee, your meticulous hands are impeccable
페이지 정보
view8,119 Comment0
본문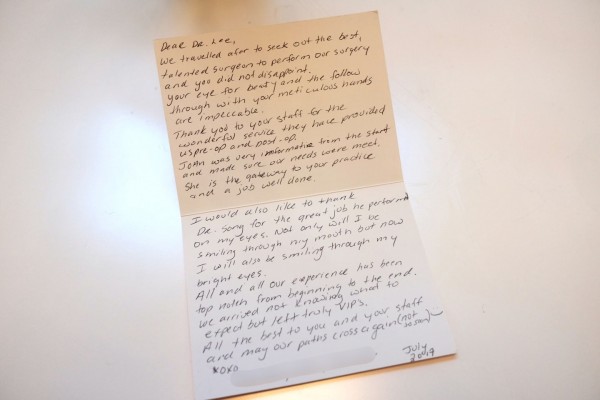 Dear Dr. Lee, 
We travelled after to seek out the best, talented surgeon to perform our surgery and you did not disappoint. Your eye for beauty and the follow through with your meticulous hands are impeccable.  
Thank you to your staff for the wonderful service they have provided us pre-op and post-op. JoAn was very informative from the start and made sure our needs were meet. She is the gateway to your practice and a job well done. 
I would also like to thank Dr. Song for the great job he performed on my eyes. Not only will I be smiling through my mouth but now I will also be smiling through my bright eyes. 
All and all our experience has been top notch from beginning to the end. We arrived not knowing what to expect but left truly VIP's. 
All the best to you and your staff and my our paths cross again (not to soon) :)
xoxo July, 2017